Seeing Farther. Going Further
Experience 3.4
Powering progress in the field of radiology for supporting quality care and for all those who deliver it.
© 2022 Bayer PP-RADI-03441 October 2020
Orchestrating the Acquisition Workflow: From Paper to Smart Connected Devices.
RadimetricsTM intelligently connects radiation dose, contrast, injector and scan information into a Seamlessly Smart™ solution to provide critical insights to radiology teams. This helps deliver more personalised care to patients and achieve reproducible quality, in line with radiation standards and regulations.
 
Radimetrics 3.0 Brand Video
Resource Efficiency
Reducing the time spent on routine tasks can positively affect the health of your imaging department.
 
Unmanaged Resources Can Cost Time and Money
Managing budgets while providing quality care can be a complicated balancing act. Even if you can identify the challenges, finding the right strategies to address them may not be readily apparent.  
How well do you manage resources in your
imaging operation?
At South Jersey Radiology Associates (SJRA) automatic capture of contrast dose details essentially eliminated dictation errors that previously affected approximately 50% of CT reports. By eliminating the discrepancies in contrast details that required further investigation and correction, RadimetricsTM together with our point of care applications** helps SJRA save radiologist dictation time, increase accuracy and improve billing cycle time.*†1  
Resource Efficiency Improves Productivity, Workflow, and the Bottom Line
You can control costs and deliver enhanced patient care when you manage resources efficiently.
| | | |
| --- | --- | --- |
| Team Efficiency | Utilisation | Investment Decisions |
---
Team Efficiency
See How Radimetrics

TM

 and Our Point of Care Applications* Can Help Enhance Your Team's Efficiency.
Help Radiologists Improve Accuracy and Save Time on Rework
Enhancing the efficiency of radiologists by reducing the time spent on routine tasks can positively affect the health of your imaging department. Our point of care applications§ helped SJRA save radiologist dictation time, yielded increased reporting accuracy, and improved billing cycle time.
RadimetricsTM Helps SJRA Increase Reporting Accuracy1
By eliminating the discrepancies in contrast details that required further investigation and correction, RadimetricsTM helps SJRA save radiologist dictation time, increase accuracy and improve billing cycle time.1
Reduced Errors, Improved Accuracy.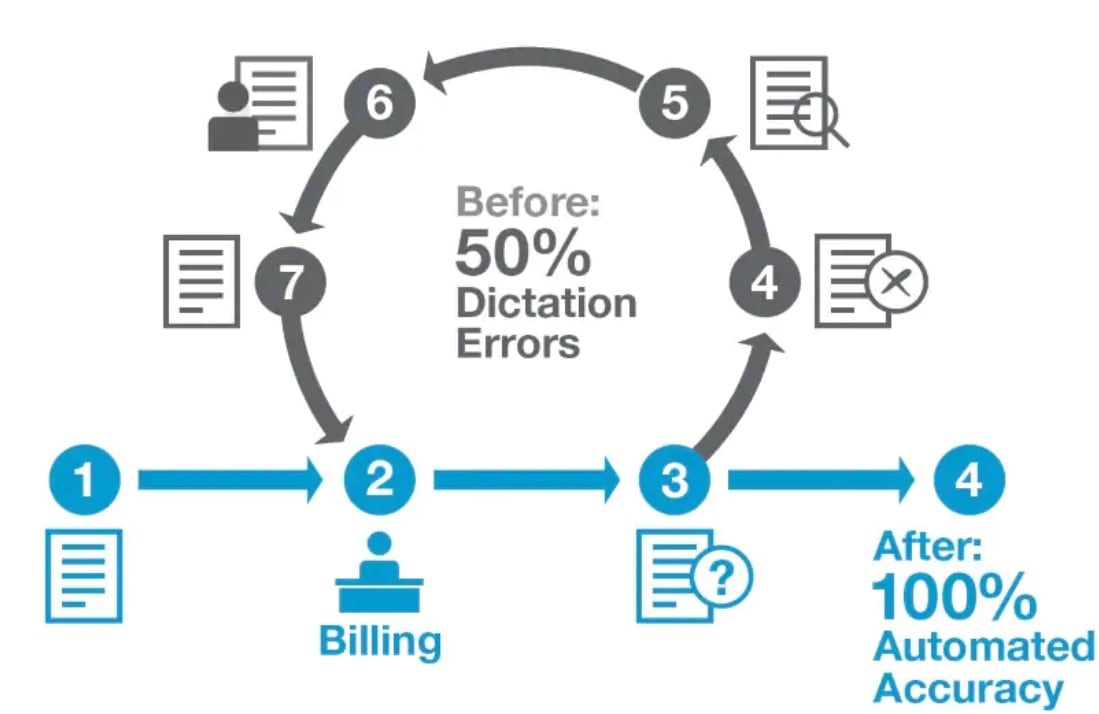 Contrast-enhanced exams are complex acquisitions and suboptimal settings can make it difficult for radiographers to perform studies that yield diagnostically useful images. Rescans that double the patient dose also double the work for the radiographer and impact the efficiency of your equipment utilisation.
Personalised protocols (P3T) help patients receive the right exam, on the right equipment, with the right dose the first time and every time, based on their individual requirements.
 
Personalised Patient Protocols Help Radiographers Deliver Consistent Results.
Routine tasks such as reporting and compliance management are time consuming and can interfere with the ability of medical physicists to focus on important quality management functions such as protocol harmonisation, statistical process control, and benchmarking.
The Australian Government,Department of Health released DIAS (Diagnostic Imaging Accreditation Scheme) which outlines the standards a radiology practice must comply with.7
Below extract from DIAS, Standard 3.2 Optimised Radiation Technique Charts Standard.
Interventional angiography equipment, evidence that system generated dose metrics have been logged and reviewed by a qualified person annually. If the interventional angiography equipment is not capable of generating dose metrics alternatively a copy of a log of screening times, and evidence that the log has been reviewed by a qualified person annually should be provided.
The practice must establish a program to ensure that radiation doses administered to a patient for diagnostic purposes are:
a) annually compared with diagnostic reference levels (DRLs) for diagnostic procedures for which DRLs have been established in Australia; and
b) if DRLs are consistently exceeded, reviewed to determine whether radiation protection has been optimised.
The automated reporting capabilities of the RadimetricsTMEnterprise Platform can reduce staff burden required to perform administrative compliance functions and potentially save time and money while giving medical physicists more time to focus on quality assurance.
 
The Radimetrics

TM

 Enterprise Platform Can Help Reduce Costs Associated With Routine Tasks.
Equipment Utilisation
Inefficient Management of Equipment Utilisation Costs Time and Money.
Managing equipment usage can help you gain additional capacity from existing equipment.
For example, the RadimetricsTM Enterprise Platform provided Maastricht University Medical Centre (MUMC) with detailed time stamps for radiation emittance, the patient on the table and time between scans. By reorganising workflow so the interventionist stays in the room with radiation protection clothing on, MUMC reduced the mean study time for complex CT interventions by 8 minutes and gained additional capacity.5
Analysis of RadimetricsTM data helped MUMC not only to understand how complex CT interventions such as transthoracic biopsies are particularly time consuming but also to implement a strategy to address the issue and add additional patients to the schedule.
"We monitor the overall productivity of our CT team and scanners. The developments of productivity can be further analysed by the type of CT scan and most importantly also by the referring physicians. We also monitor the utilised capacity of our four CT scanners with the goal to reduce idle time."3
Sebastian T. Schindera, MD
Clinic of Radiology and Nuclear Medicine University of Basel Hospital, Switzerland
By providing scanner utilisation data, RadimetricsTM can help you manage workflow and equipment usage.
Since rescans from aborted or suboptimal contrast enhanced scans effectively double patient dose and table time, contrast dose management is another key aspect of image acquisition.
RadimetricsTM contrast analytics, together with our point of care applications, provide you with information that may help your department optimise imaging equipment utilisation.
Investment Decisions
Make Investment Decisions Based on Real-World Data From Your Organisation.
With increased focus on budgets and the bottom line, ongoing access to data about resource utilisation, including contrast, equipment, and staff, can help you make informed business decisions.  
University Hospital Basel used RadimetricsTM to benchmark the doses between their 4 CT scanners, which are not equally equipped with the latest technologies for dose reduction. At the beginning of the review, 2 of their scanners were equipped with iterative reconstruction technology and automatic tube current modulation, but 2 scanners were not. They discovered that the average effective dose for a routine CT of the chest differed up to 4-fold among their 4 scanners. In addition to using the information to triage patients to the appropriate scanners, they were able to demonstrate how equipment equipped with the latest technologies could positively impact patient care. Based on this information, they purchased a third high-end scanner, which helped harmonise dose distribution among all the department's scanners.3
Real-world data provided by RadimetricsTM can provide not only near real-time information about scanner utilisation, but may also give you the necessary factual basis to make new investment decisions. 
University Hospital Essen used RadimetricsTM to set dose limits and assess the validity of their organ dose calculations by comparing phantom measurements against the effective radiation doses. They then used the data to compare dose information from scanners of different generations and found dose reductions of 80% during scans with the same protocol. They also used data from RadimetricsTM to confirm that the CT equipment's dose reduction system was able to achieve a 30% lower radiation dose than an older scanner as advertised by the manufacturer.6
RadimetricsTM gives you real-world data from your scanner equipment that can be used when evaluating the purchase of new equipment.
 
Dose Management
With new and evolving radiation dose regulations and standards*, your responsibilities may extend even further than before.
*Australian Government, Department of Health - DIAS. Diagnostic Imaging Accreditation Scheme 2016.

Return to content
Your Challenging Role in a Complex Environment
With evolving radiation dose regulations and standards, your responsibilities may extend even further than before.
These regulations and quality initiatives mean that you could be responsible for dose recording, threshold setting, and outlier reporting. Although the safe operation of your department rests on your shoulders, you may have time only for sporadic spot checks, which can be time-consuming, incomplete, and error-prone. Dose variability can be a persistent problem, with variations between patients, protocols, and users.
Broadly available technology such as Picture Archiving and Communication System (PACS), Radiology Information System (RIS), and scanner dose sheets provide a passive means of satisfying basic compliance requirements of dose recording, reporting and archiving. But because PACS are not designed to perform aggregate statistical evaluations, your ability to identify and differentiate between outliers and trends, adjust dosing, or improve dose consistency is limited.
Dose levels must be predictable and consistent between exams. This can be difficult to achieve without connecting the data from your PACS to a radiation dose management system. Once the dose distribution across all scans becomes visible, you have taken the first step towards active dose management. This requires more advanced tools for statistical process control and quality management.  
How does your organisation achieve predictable, consistent dose levels?
The University of California reduced the number of high-dose abdomen exams by 50% within three months. Using RadimetricsTM, they collected 203,527 CT exams from 12 facilities. They found that the primary factors influencing dose variation were multiphase scanning and institutional protocol choices. They used this information to benchmark dose levels across all their medical centres and achieved a 50% reduction in high-dose abdominal exams (defined as exceeding the 75th percentile).*1
RadimetricsTM provides you with state-of-the-art capabilities to help you operationalise consistent production within defined dose tolerances. Advanced tools help you to add value and raise safety standards:
Protocol management, robust reporting, and interactive dosimetry to help you and your team identify and reduce outlier events.

Customisable, interactive quality metrics assist with your quality assurance program.

Multimodality support for objective dose information on a vendor-neutral platform.
| | | |
| --- | --- | --- |
| Automated Capture | Departmental Monitoring | Quality Management |
---
Automated Capture
RadimetricsTM helps automate routine administrative tasks, freeing your time for analysis.
This tool provides you with holistic and near real-time tracking and monitoring. In addition, RadimetricsTM automated reporting helps you avoid time-intensive administrative tasks such as manually calculating peak skin dose or manually recording and transcribing contrast information in the final patient report, both of which can be error-prone and time consuming processes.
Departmental Monitoring
Radimetrics

TM

 helps simplify dose management beyond basic dose reporting.
Information available from RadimetricsTM may be used to help you consistently identify outliers and trends, either through automated email alerts or case drill-down from your distribution charts. For audits, you can review all studies, utilising aggregated data generated by the software – instead of depending on random spot checks. Armed with this information, the interactive dosimetry and protocol management tools help you reduce outlier events.
The University of California analysed almost 200,000 exams for expected dose ranges, in line with the Joint Commission standard. Using RadimetricsTM, they obtained quartile ranges for six key CT imaging protocols, differentiated by adults and children as well as single and multi-phase CT.1

Protocol Management helps you reduce variability between users and protocols by harmonising the protocol library and reducing redundant, outdated or suboptimal scan protocols. It allows you to set alerts and apply notes, tracking alert occurrence over time, and documenting when corrective actions were taken.
RadimetricsTM provides you with a means to define dose reference levels (DRLs) by protocol, and monitor studies and dose distribution to remain within your defined tolerances. The system integrates with your existing IT and automates dose collection, monitoring and reporting.
Interactive dosimetry assists with training on scan range and scanner parameters. The impact of tube current modulation, scan range and many other parameters can be simulated and visualised.
RadimetricsTM provides objective dose information for multiple modalities on a vendor neutral platform. While CT is clearly a significant source of exposure by dose and procedure volume, other modalities, including mammography, nuclear medicine, and interventional radiology are also sources of radiation which add to the cumulative dose a patient may receive.
 
Enhanced Ability to Meet Quality Goals.
With this integrated approach to radiation dose management through statistical process control, hospitals can use software tools to comply with requirements to implement a quality assurance program.
In addition to the other tools, interactive quality metrics available in RadimetricsTM can be fully customised to meet your needs.
In addition, the data provided by the RadimetricsTM Enterprise Platform products provide you with the information to confidentially and anonymously compare your data with benchmark dose levels and against other institutions found in dose registries. When you compare the performance of your department with that of other participating institutions this information provides you with context and allows you to monitor progress.
 
References
* The results cited represent the outcomes achieved by the respective institution and are not necessarily representative of every site. Results will vary based on a site's existing circumstances and the quality of the improvement programs adopted by the site. Return to content
1. Smith-Bindman R, Moghadassi M, Wilson N, Nelson TR, Boone JM, Cagnon CH, et al. Radiation doses in consecutive CT examinations from five University of California Medical Centers. Radiology. 2015; 277(1): 134-141. Return to content
Reproducible Quality
Improved reproducibility through protocol optimisation, training to help achieve consistent scanner operation and prevent contrast variations to help improve image quality.
 
Complexity Can Introduce Unintended Variations
Unintentional variations in the image acquisition process can impact your ability to generate reproducible results and achieve a consistent standard of quality patient care.
Analysis of Radiation Dose Distribution by Hospital.
In a large study (STONE), one of the variables measured and published in a separate letter1 was the CT radiation dose in kidney stone exams. A wide range of practices and radiation doses administered to patients was recorded from 15 hospitals and 1,582 patients over 17 months.
Study Design: Data from the STONE study was later analysed in a separate publication1. Patients were eligible if the emergency physician suspected urolithiasis and were excluded if they were obese or at high risk for a significant alternative diagnosis.
200x variation in dose between patients.
5x variation in median doses between hospitals (4-19 mSv).
8% of patients received a low-dose scan of recommended 4 mSv or less.
 
How do you address unintentional variations in your image acquisition process?

Dose Variation Among Patients
Basel University Hospital reduced the median dose for CT thorax exams by 67% (Mean DLP 245 to 81 mGy-cm). Using RadimetricsTM, dose variability between scans was also reduced between the 25 and 75 percentiles. This allows University Hospital Basel to perform CT Thorax exams at a median DLP 80% below the national Dose Reference Level.*2
 
When Reproducible Quality is Your Goal, Be Confident with Seamlessly Smart Consistency.
The RadimetricsTM Enterprise Platform, together with point of care applications,*** offers a set of management tools.
| | | |
| --- | --- | --- |
| Protocol Selection | Scanner Operation | Contrast Administration |
---
Improved Reproducibility
Improved Reproducibility Through Protocol Optimisation. Your enterprise protocol library may contain a selection of outdated, suboptimal, or redundant scan protocols across your scanner fleet.
Inconsistent and unpredictable dose effects can occur if protocol availability and selection at the individual scanner is unmanaged. Image acquisition that generates consistent results may help optimise scans, which translates into better quality care for your patients.
The RadimetricsTM Enterprise Platform protocol management can help your department harmonise its protocol library to reduce variability.
Redundancies and obsolete instances can be eliminated when device libraries are mapped to a standard catalogue. You can also promote consistent use by standardising protocol names across all devices. In addition, the dose management software allows you to track dosing from each CT examination and calculate the average dose for each CT protocol. This helps you select the most dose-effective protocols.
Scanner Operation
Training Helps Achieve Consistent Scanner Operation.
Advances in technology, coupled against a backdrop of budgetary limitations, contribute to an imaging environment that is increasingly challenging.
Technological complexity and scanner diversity can contribute to undesirable variations such as differences in radiation dose and image quality between users and shifts.
For example, even subtle changes like table height may impact the results obtained from the automated scanner algorithms. Beyond scanner parameter settings, scan range selection also impacts the total dose delivered.
The RadimetricsTM Enterprise Platform features interactive modelling capabilities. This functionality allows users to review simulated scenarios and visualise resulting organ doses. Further, the visualisation of tube current modulation facilitates the detection of an unintentional selection of scan parameters.
Contrast Administration
Prevent Contrast Variations To Help Improve Image Quality.
Because contrast enhanced exams are among the more complex acquisitions, correct volume, concentration and timing need to be controlled.
With suboptimal settings, exams may exhibit suboptimal image quality. Rescans effectively double the patient dose.
Our CT point of care applications** for contrast media injections allow you to monitor and adjust volume, concentration, and timing. Contrast algorithms for consistent enhancement are available for:
Imaging of abdominal organs such as liver, pancreas, kidneys (P3TTM Abdomen).
CTA studies of the main and segmental pulmonary arteries to assess for pulmonary embolism (P3TTM PA).
CTA imaging of cardiac structures (P3TTM Cardiac).
 
Reproducible Quality: Perform Acquisitions with Consistent Results.
Personalised Patient Protocol Technology (P3T)
The role of CT angiography (CTA) has been well established in the detection of pulmonary thromboembolism. Optimising contrast injection and scanning parameters has become of increased importance with the faster multidetector scanners to achieve diagnostic quality images. The purpose is to assess if a prototype automated software program for patient specific contrast injection, P3T Cardiac, is comparable to or offers advantages over site specific standard protocol used for chest CTA.3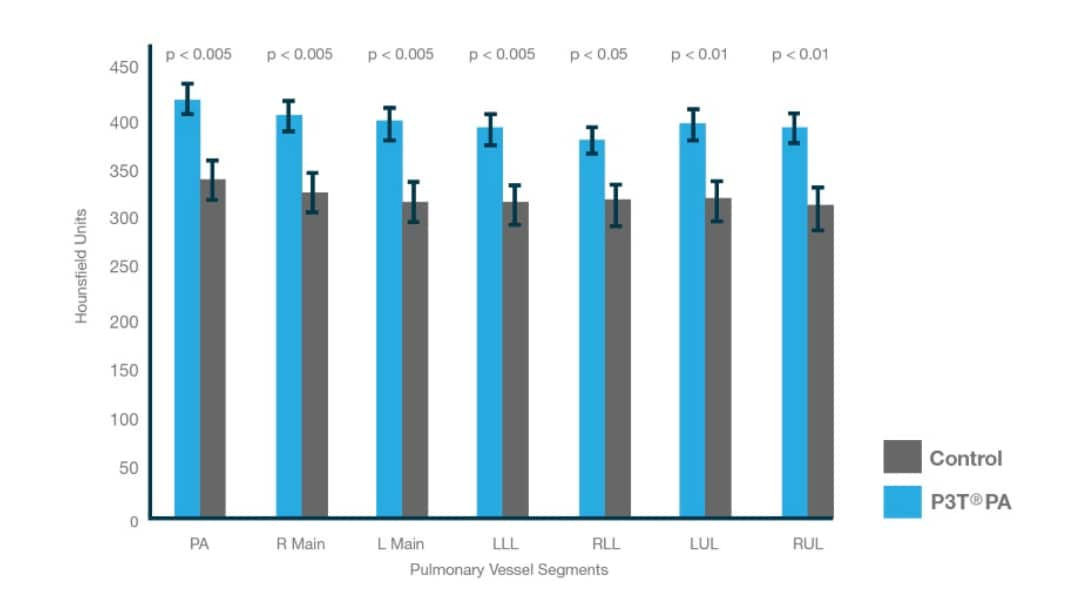 Table 1. Comparison of PA Enhancement, Deible et al: A clinical evaluation of an automated software program (P3T PA) for patient specific contrast injection during chest CTA to exclude pulmonary embolism.
RadimetricsTM: A Firm Foundation for Personalised Care.
Once consistency has been achieved you have a firm foundation on which to personalise the exam regarding correct dosing and scanner choice.
The referring physician or radiologist should consider patient needs based on age, habits, and scan history. The indication and accumulated dose from prior exams may influence imaging decisions such as what modality to use (ionising vs non-ionising) and what scanner to choose (conventional vs low dose). Contrast dose should be personalised based on patient weight and other exam factors.

Dose Alerts.
The Dose Engine accurately determines radiation dose for the patient and 26 organs. Non-ionising modalities may be considered if critical dose levels are approached over a certain time frame for:
Young patients.
Dose sensitive organs (breast, ovaries, eye lens).
Frequently scanned patients.

Scanner Benchmarking.
RadimetricsTM allows users to easily compare average dose levels per scanner for a given protocol, which can differ by 4 fold.4 In sites with a heterogeneous scanner fleet, this helps triage patient sub-populations between low-dose and conventional or older machines.
Cumulative Dose Measure of a Single Patient4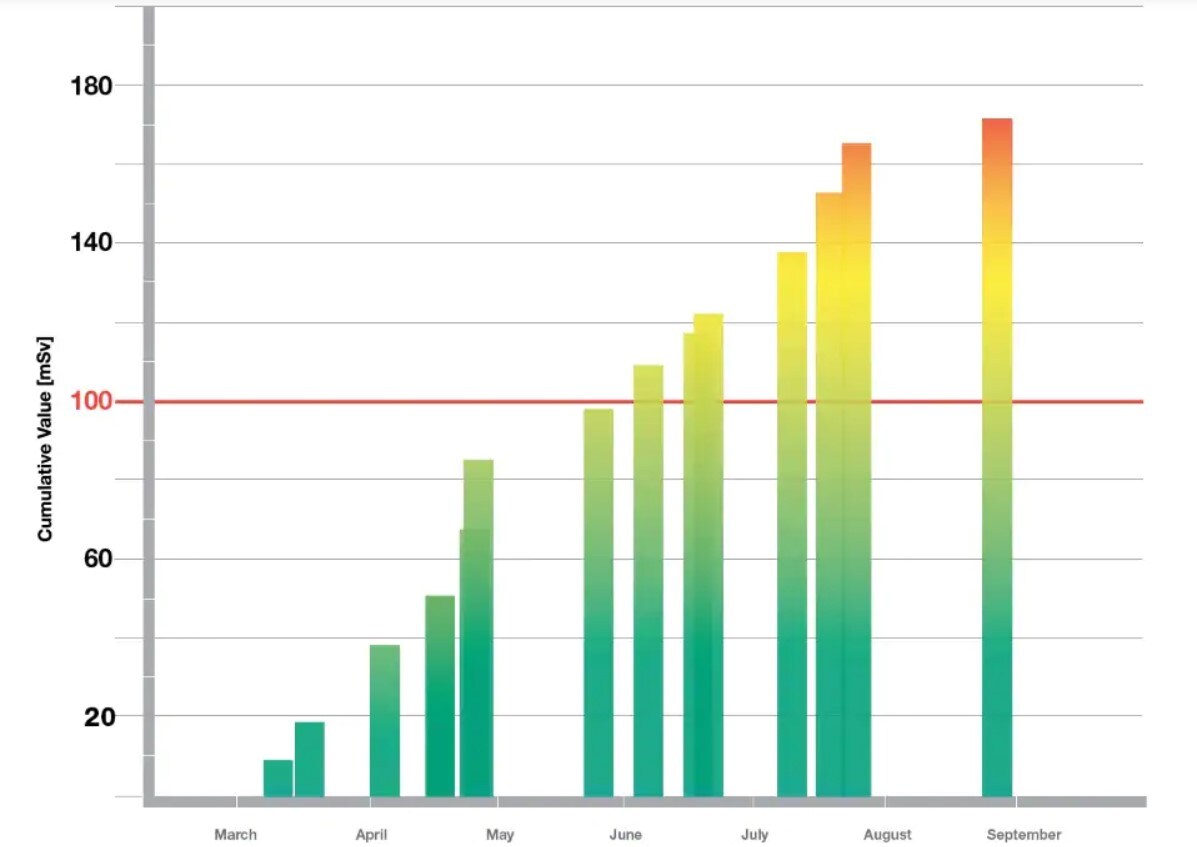 Adapted from figure 3, The dose page of a patient who had a pancreatitis with multiple complications. The patient received 14 CT scans within 6 months and built up a cumulative radiation dose of almost 170mSv.
"We came to the conclusion that some of those CT scans could have been replaced by an MRI or an Ultrasound without impacting patient management. Based on this incident, we set a cumulative effective dose of 100mSv."4
Sebastian T. Schindera,
MD Clinic of Radiology and Nuclear Medicine University of Basel Hospital, Switzerland

Consistent Contrast Enhancement.
Personalised protocol technology automatically adjust contrast media protocols to allow for differences in patient body weight, contrast concentration, total iodine load and a series of other configurable factors to improve image quality and manage within the specific hospital's contrast protocolling guidelines. It allows for consistent contrast enhancement, even in complex studies and across a wide range of patients.